Puissance is an elegant French word signifying strength, power, and might. The first of our featured Puissance Pairs, Tina and Craig Yates of Highpoint Farm, LLC, through love and commitment, have woven two very different backgrounds into one unified force, a powerful pairing, tackling together the world of show jumping with Puissance, and proving that their union is more than the sum of its parts.

TINA'S BACKGROUND
Tina Dilandri was a horse-crazy young girl growing up in Arizona, who at age three, was taking pony rides on a lead-line, and was riding on her own by age five. "By that time I was already obsessed with horses," Tina remembers. "I started taking lessons with Janet Hischer, and I loved it. I think my mom knew then she was in for the long haul."
"Then I wanted to take it to the next level, and California was the place to go, so I started with Karen Healey, made my equitation debut at age thirteen, and rode with her all through my junior career." Through the mid- to late 2000s, she scored multiple top-three finishes in major equitation finals in 2007, including USEF Talent Search West (2nd), Pessoa/USEF Medal Final (3rd) and the WIHS Equitation Classic Final (2nd); was invited to ride in the 2008 George H. Morris Horsemastership Clinic in Wellington, and was 3rd in the 2009 Pessoa/USEF Medal Final.
Her name was becoming more and more well-known in the niche. She rode her last junior year under the tutelage of Andre Dignelli, and then took a break to go to college; but after a short time, she realized that, "I missed the horses way too much."
She decided to return to the horse world and work toward competing at the grand prix level. Still in California, Tina made her new start with Christa and Mike Endicott, and acquired a new jumper, Avargo, who took her over her first grand prix courses, some World Cup classes, and around her first Olympic trials course. She remained on the West Coast for a few years, and it was there that she crossed paths with Jonathen Craig Yates, trainer and head of international imports for Hyperion Stud.
The two met while Tina was showing at the Blenheim Showpark Series in Del Mar. "I first spoke to him," says Tina, "about breeding my junior jumper to Imothep, one of the stallions he was training. We started talking, and things seemed to click. We ended up going on a few dates, and things just kept blossoming."
The next year, in 2013, Tina traveled to Florida to train with Craig. It was there that they began dating seriously, and Tina looks upon that as the year they began considering a life together.
. . . AND CRAIG'S
Craig was born in Huddersfield in West Yorkshire, England, in 1972, and rode as a child, though he didn't compete. At age sixteen, he joined the Blues and Royals Regiment of the British Army (think Prince Harry). Craig served in HRH Queen Elizabeth II's Household Cavalry, and after eight years of service, became the youngest ever to be promoted to Lance Corporal of the Horse. With this distinguished ranking, he became the riding instructor for the regiment, in which capacity he was required to break and train all the horses, to teach all the new recruits how to ride, and to prepare them for their ceremonial duties.
Following a tour of nine years, Craig left the Army in 1997, and moved to Europe. He worked and rode for several high-profile show jumping riders, in order to gain experience in the business, including Irish Equestrian Team member Eddie Macken. Based in Germany, Craig traveled to top international shows with Macken and his show string.
In 2000, following the Olympic Games in Sydney, Australia, he was recruited by Swedish Equestrian Team rider Malin Bayard, to manage her farm, during which time Craig was able to spend long periods of time with the famous Swedish Team Coach, Henk Nooren.
In 2004, Craig came to the U.S. to work for equestrian and philanthropist Clare Bronfman. After returning to Europe for a summer, he made his way back to the U.S. to work for Rocky Mountain Warmbloods in Wellington, FL. During that time, through a mutual friend, he met Vicky Castegren, who engaged him as her trainer until she retired to start a family.
After a short hiatus, Vicky purchased a new facility and started her present farm, Hyperion Stud, a breeding and sales operation dedicated to providing the American show jumping market with the best bloodlines from Europe. Craig took over the job of finding, importing, and training the stallions, with some notable successes, including Imothep, Chin Quidam VDL, Campbell VDL, and Dakota VDL. All were purchased as young horses and developed by Craig to the Grand Prix level.
This position required not only his exceptional skills as a trainer, but an unerring eye for a horse, and the ability to choose horses that would appeal to the American market. He was in that position when he and Tina met in 2012.
A DIFFICULT JOURNEY
With Craig as her trainer, Tina is certainly excelling in the show jumping ranks but it hasn't been an easy road. "Along that journey," she recalls, "he also completely changed my riding inside out and upside down. So that was a process. I went from jumping the Grand Prix courses and occasional World Cup classes to jumping the lows and mediums.
If I was lucky he would let me jump the highs. It was definitely a roller coaster of a ride. I went through lots of ups and downs, lots of tears. He can vouch for lots of tears. But now I feel that I have just started to play on a little bit of an even playing field."
Craig's perspective is purely European, "It's not what you look like, it's the results that are important. It's removing the equitation – equitation is all the look. The U.S. system differs from the European system, in that the rider is brought up through the hunters and equitation, where the fundamentals are very correct, but a lot of it is on the look and not the productivity. Whereas, once you are in the show jumping ring, there is no style. Style is a bonus, but the productivity is in the result."
So, he says, you have to change the rider's mentality, to understand that in show jumping, the scoreboard is the most important aspect. The rider must learn not to worry about what everyone thinks about how he/she looks. But in making this change, the fundamental basics that riders have practiced throughout their junior careers, must not be forgotten.
"It all goes back to the fundamentals," echoes Tina. "I still use what I learned on the flat from Equitation every single day, and Craig has added a lot of things that I didn't know how to do. Everything is just repetition, repetition, repetition. But, at the end of the day it's all about just working with, feeling and understanding the horse."
"The day to day work is as important as the time in the show ring," Craig points out. "A lot of people don't have the opportunity to spend the time with the animals, to get the education. That's why they have trainers. The trainers do a great job in preparing the horse, but then again, once you are in the ring it's the rider and the animal, and theoretically for 90 seconds, they are on their own."
"I think that the biggest change for me is that Craig would always tell me, 'Just do what it takes to get it done. If the scoreboard says zero, you jumped a clear round. That's what matters," Tina recalls. "That was the hardest change for me: to be able to walk into the ring and adapt to whatever situation presented itself."
For two years, 2013 and 2014, Tina didn't compete in FEI classes, while Craig worked to take her riding to the next level. He focused on her boldness, and on implementing a more European style to add to her existing talents.
A CHRISTMAS EVE SURPRISE
Over this retraining time frame, the couple had also developed a strong bond. This led to a favorite holiday memory for Tina. She was wrapping presents for her sister. She was sitting on the floor in her bedroom, and Craig was seated on the couch nearby. He asked her to come and sit next to him because he had something he wanted to talk to her about, and she told him that she had to get the wrapping done, so just to talk to her while she was wrapping.
Again, Craig asked her to come sit beside him, so she did, and it seemed to her that he was chatting a little nervously. He told her he had had a chat with her dad, and that made her nervous. "Was he breaking up with me?" Tina wondered, "Then, he reached behind his back, pulled out a ring box, opened it to reveal a gorgeous, sparkly, flawless, amazing ring – and asked me to marry him!
Beyond excited, I ran from the room screaming for my mom, to share the news." That was December 24th, 2014 and they were married on New Year's Eve 2015.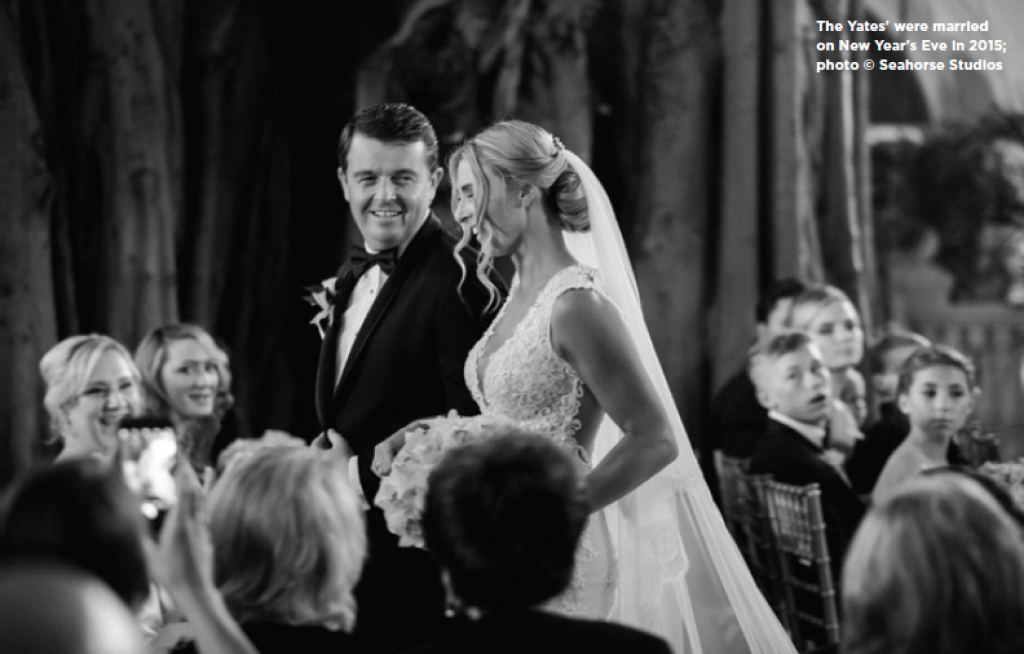 MAKING HISTORY
By 2016, with her husband by her side, Tina turned professional. Spending the winter in the warmth of Wellington and the spring, summer and fall seasons based in sunny San Juan Capistrano, together the couple now buy, sell, ride and train as Highpoint Farm, LLC.
Although always cognizant of the ups and downs of the sport, Tina achieved a solid number of ups in her first year as a pro. In September of last year, she managed to accomplish an amazing win. With forty-five horse and rider combinations in the $30,000 Markel Insurance Grand Prix, eight qualified for the jump-off, and Tina was riding two of those eight.
First and fifth to return, she was not only double clear on both of her horses, High Point Farm's Bowmore VDL and HKC Collection's Cicomein VDL, she tied her own jump-off time to the thousandth of a second! Silencing the crowd for a second before loud cheers rang out, Yates finished double first, tied with herself on her two talented Dutch bays.
That was not her only top finish in 2016. From winning young horse championships to placing in the top
three of the Interactive Mortgage U25 Championships as well as the Longines FEI World Cup™ Jumping Las Vegas, the pair are making strides from coast to coast.
Looking toward 2017, her goal is to reach the top 100 on the FEI World Ranking List, and long-term, to represent the USA on Nation's Cup Teams. And to do it while developing a solid string of show jumpers,
and working with a select group of clients. With nine horses in training, business is blossoming. "Craig trains me, and I ride the horses."
About couples working together, Tina points out that, "It's important to have a business relationship, but when the day is done, and we go home, it must change to a personal one."
Barely out of the newlywed phase, Tina and Craig Yates are proving to be a Puissance Pair. From two very
different backgrounds, having the horses as the bond, each brings their unique strengths, skills and passion
to pursue the pinnacles of show jumping. And, notably, the pair are planning a family as well.