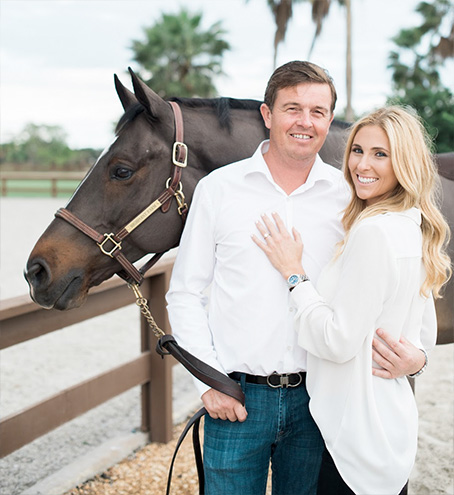 Tina and Craig Yates have successfully woven two very different backgrounds and divergent skill sets, into one powerful whole with Highpoint Farm.
Focused on developing horses, from young prospects to grand prix, their success shows in Tina's triumphs in the arena.
They move the horses to California for the spring, summer and fall seasons, and then go home to Wellington, Florida, for the winter.
Learn more about Tina Yates and Craig Yates below.
Tina was born in Arizona, and by age five was riding on her own, already obsessed with horses. After a move to California, she spent her junior years riding with Karen Healey, making a name for herself in the equitation niche. After a brief stint at college, she realized that she missed the horses, and returned to the horse world to work toward competing at the grand prix level. She made her new start with Krista and Mike Endicott, soon making her debut in grand prix events, some World Cup classes, and an Olympic trials course.
She remained on the West Coast for a few years, and eventually crossed paths with Craig Yates, a trainer and head of international imports for Hyperion Stud. They developed an easy relationship, and in 2013, Tina traveled to Florida to train with Craig. It was during that year that they began considering a life together.
Tina stepped back from major competition for two years, while they worked together to change her riding style. Married on New Year's Eve 2015, by 2016, with her husband by her side, Tina turned professional, and began to light up the leaderboards.
Craig, born in West Yorkshire, England, rode as a child, but didn't compete. At age sixteen, he joined the British Army, and served in HRH Queen Elizabeth II's Household Cavalry for nine years, becoming the youngest person ever to be promoted to Lance Corporal of the Horse. As the riding instructor of the regiment, he was responsible for breaking and training all the horses, and teaching the new recruits how to ride -– to prepare them for their ceremonial duties.
After leaving the Army in 1997, he went to work for several high-profile show jumpers in Europe, to gain experience in the business.
He was recruited in 2000 by Swedish Equestrian Team rider Malin Bayard, to manage her farm, and during those years, was able to spend a lot of time with the famous Swedish Team Coach, Henk Nooren.
Having moved to the U.S. in 2004, he ended up going to work for Hyperion Stud, a breeding and sales operation dedicated to providing the American show jumping market with Europe's best bloodlines. He took over finding, importing, and developing the stallions to the Grand Prix level. It was in this capacity that he met Tina in 2012, as she was interested in breeding her show jumper to one of the Hyperion stallions.
Tina and Jonathen Craig Yates
Wellington, Florida & Rancho Santa Fe, California
(561) 847-1070