By Jackie McFarland and Nina Vogel for Equestrian Almanac | Spring 2017 Issue
In the last issue of Equestrian Almanac we asked a handful of couples to explain their partner as a horse. Along with giving each of them a chance to think 'like a horse' and the readers a different perspective on humans and horses, we got a kick out of the venture and decided to continue the quest.
Although they can't talk, horses all have distinct personalities much the way people do. Couples who spend an extensive amount of time with one another and their equine partners, at the barn as well as competing on the road, have a unique perspective on this topic. So once again we ventured out and asked several show jumping couples, "If your spouse were a horse, what kind would he or she be?"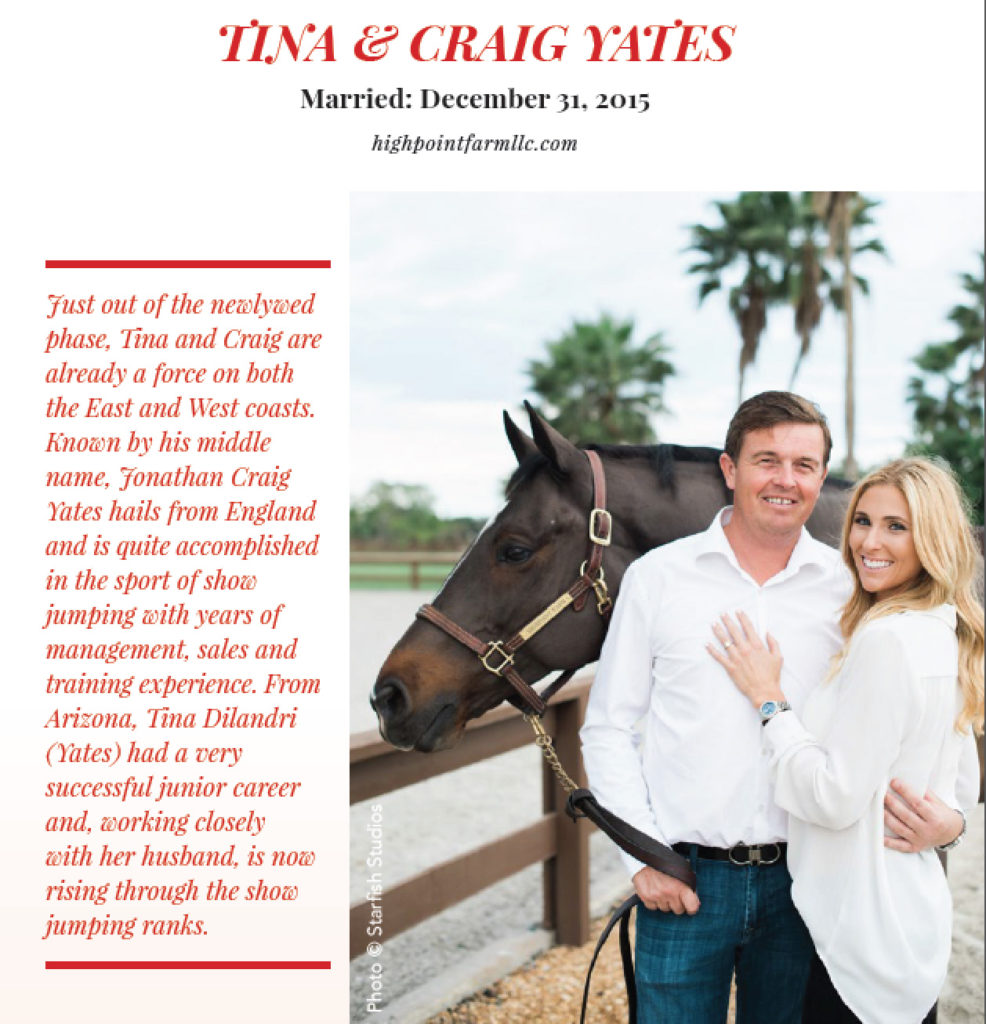 TINA & CRAIG YATES
Married: December 31, 2015
highpointfarmllc.com
Just out of the newlywed phase, Tina and Craig are already a force on both the East and West coasts. Known by his middle name, Jonathan Craig Yates hails from England and is quite accomplished in the sport of show jumping with years of management, sales and training experience. From Arizona, Tina Dilandri (Yates) had a very successful junior career and, working closely with her husband, is now rising through the show jumping ranks.
Tina:
Craig would definitely be a stallion and one that knows he's handsome. In the barn he would be stubborn and a bit of a handful, and he would nicker at all the mares. But he would be pretty well behaved, most of the time, and smart. He would have a lot of natural talent. In the ring he would be fast, catty, and careful. When he won he would prance around wearing his blue sash around his neck. He likes sashes and coolers over ribbons and trophies. He would always want to lead the victory gallop.
Craig:
Tina would be the beautiful chestnut mare that expects people to look at her. At home she would be hard to train due to the fact that she believes she knows best. In the show ring she would try her best to jump everything clear, but she would take more pride in wanting people to watch and comment on how pretty and smooth it looked. In the stable she would be more concerned about not starting too early in the morning and getting her food on time three times a day.