By Jackie McFarland for Horse & Style Magazine March/April 2017 issue
If you were on the horse show scene in California and kept an eye on Medal Finals season from 2007–2009, then you know the name Tina Dilandri. Hailing from Arizona, and training with Karen Healey, Chris Kappler, Andre Dignelli and more, she had blossomed into an equitation superstar, and had also made a name for herself in the junior jumper division. Along with multiple wins in the jumper ring, she earned top-three finishes in major equitation finals in 2007, including USEF Talent Search West (2nd), Pessoa/USEF Medal Final (3rd) and the WIHS Equitation Classic Final (2nd); was invited to ride in the 2008 George H. Morris Horsemastership Clinic in Wellington, and was 3rd in the 2009 Pessoa/USEF Medal Final.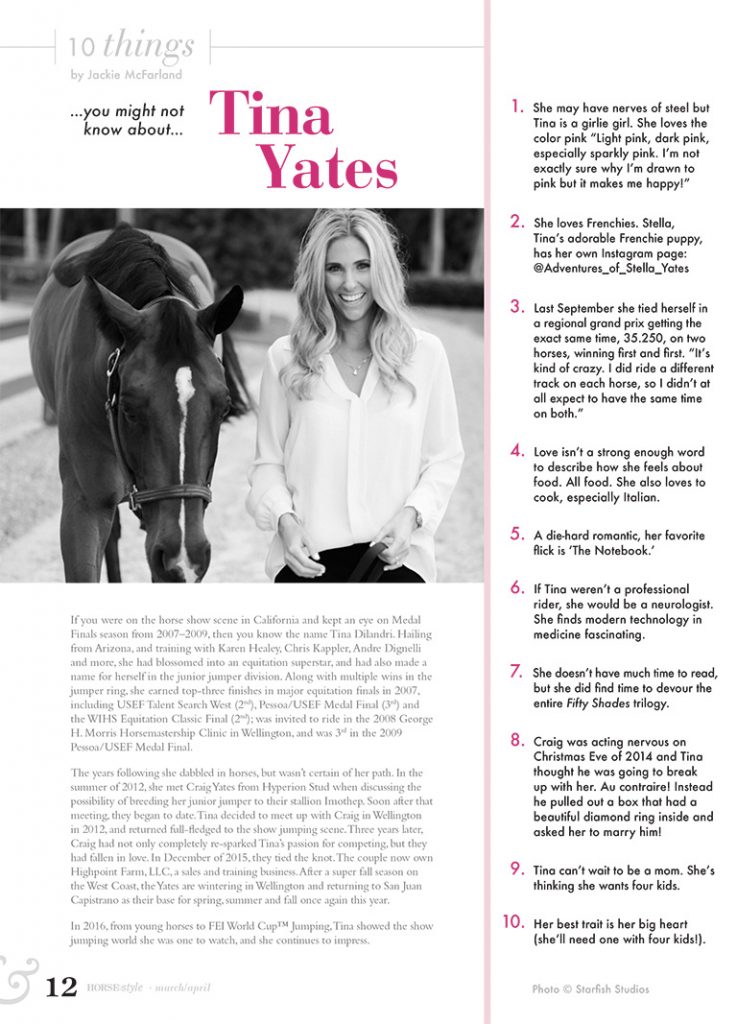 The years following she dabbled in horses, but wasn't certain of her path. In the summer of 2012, she met Craig Yates from Hyperion Stud when discussing the possibility of breeding her junior jumper to their stallion Imothep. Soon after that meeting, they began to date. Tina decided to meet up with Craig in Wellington in 2012, and returned full-fledged to the show jumping scene. Three years later, Craig had not only completely re-sparked Tina's passion for competing, but they had fallen in love. In December of 2015, they tied the knot. The couple now own Highpoint Farm, LLC, a sales and training business. After a super fall season on the West Coast, the Yates are wintering in Wellington and returning to San Juan Capistrano as their base for spring, summer and fall once again this year.
In 2016, from young horses to FEI World Cup™ Jumping, Tina showed the show jumping world she was one to watch, and she continues to impress.
She may have nerves of steel but Tina is a girlie girl. She loves the color pink "Light pink, dark pink, especially sparkly pink. I'm not exactly sure why I'm drawn to pink but it makes me happy!"
She loves Frenchies. Stella, Tina's adorable Frenchie puppy, has her own Instagram page: @Adventures_of_Stella_Yates
Last September she tied herself in a regional grand prix getting the exact same time, 35.250, on two horses, winning first and first. "It's kind of crazy. I did ride a different track on each horse, so I didn't at all expect to have the same time on both."
Love isn't a strong enough word to describe how she feels about food. All food. She also loves to cook, especially Italian.
A die-hard romantic, her favorite flick is 'The Notebook.'
If Tina weren't a professional rider, she would be a neurologist. She finds modern technology in
medicine fascinating.
She doesn't have much time to read, but she did find time to devour the entire Fifty Shades trilogy.
Craig was acting nervous on Christmas Eve of 2014 and Tina thought he was going to break up with her. Au contraire! Instead he pulled out a box that had a beautiful diamond ring inside and asked her to marry him!
Tina can't wait to be a mom. She's thinking she wants four kids.Her best trait is her big heart (she'll need one with four kids!).